After spending some time looking at different GPS devices, I decided the best idea for me would be to go with the
Forerunner 305
. Considering I've been running as well, it made sense for me to get something that would easily transition between running and biking. And, in my opinion, the Forerunner 305 is the best bang for the buck.
The Forerunner 305 comes packaged with a
heart rate monitor
(which sells for $60 alone) and for extra cash, you can purchase the
Cadence/Speed
adapter.
I purchased it from Best Buy for a total of $154 after taxes. In the box is the actual GPS unit, a usb to mini-usb cable, a mount for charging/uploading, the power supply (which is connected to the mount via the usb cable), the heart rate monitor, and the paperwork and software.
I let it sit on the charger for four hours before pulling it off. The recommended charging time was three hours, but I never got a "Charging Complete" message so I was hesitant to pull it off. That being said, after scouring through the documentation, I don't think there is said warning... so I think I am safe. Unfortunately, by that time it was too late to take it for a run so I simply configured it.
The configuration was incredibly easy. You turn it on by holding down a button on the side and then you go through simple questions. "Do you own a heart rate monitor?" "Do you own a foot pad?" "Do you own a cadence?" "What is your age/weight/sex?" etc.
All in all, the setup took about 45 seconds before I could have been using it. Unfortunately, by that time it was 10:45 at night, so I couldn't do much else.
This morning, however, I worked on the configuration screens.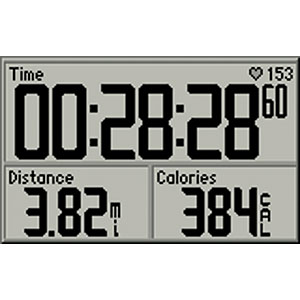 You can choose how many data sets are on the screen, up to four. For biking I chose Time, Speed, Distance, and heart rate. You can configure more screens, (Up to 5 I believe), so if I wanted to also see what my max speed, lap speed, lap time, etc. was, I could configure those for a different screen, at which point pressing the up or down arrows on the side of the unit would take me to those screens.
I strapped the heart rate monitor on this morning and off I went for a small little ride. I wanted to make it back with plenty of time to download the software and upload my ride.
Satellite acquisition took about 45 seconds, which was exactly how long it took me to lock my front door, put my keys away, walk my bike down the stairs and check to see the satellite status. (It is a progress bar that, when filled, means you have satellites). Reading about the product on various other reviews have stated that after awhile, the satellites pick up faster if you stay in the same general area (i.e. not going to a different state). To start recording you simply hit the Start/Stop button on the device.
While riding it was great. I didn't purchase the
bike mount
, so I simply wore it on my wrist. Surprisingly, I didn't even notice it. I'm not gonna lie, the device is rather large. The screen is the width of two fingers and about an inch (2.34 cm) long. The whole unit is probably double that size.
But, what makes that good, is that you can actually read the damn thing. A quick glance up and I know how far I've gone, how long it has taken, what speed I am going, and what my heart rate is.
Once I got back home, I simply hit the start/stop button and took it off.
Downloading the software was a breeze. It comes packaged with Garmin's home made tracking tool which auto-detects any rides/runs you have done and uploads them. But I wasn't that interested in that... I wanted to check out Garmin Connect.
So I went to
Garmin Connect
, registered, downloaded a plugin, and that auto-detected my device, uploaded my routes, and I was done.
So... wihtout further ado, my very first Garmin Connect upload. (ok, it was the second. Apparently last night I hit "Start" while walking around in the apartment, so I have about 10 seconds of me standing still).
A few interesting things about that.
First off, click the "View Details" button to go to the actual garmin site. You can then see my speed vs time, elevation vs distance, and heart rate vs time graphs. You can also see my route, max and average speeds, times, device, etc.
The first thing I noticed was my heart rate. Admittedly, my heart is a bit of a dysfunctional piece of crap. Due to a birth defect and heart surgery, my heart rate is high and erratic. But, I do believe a heart rate of 260-ish would even kill me. So something was screwy for the first few minutes with the heart rate. The second thing is the elevation. I don't quite now exactly what occurs when you say you want "Elevation Corrections" enabled, but it was and I am impressed by the data output. You can zoom in and out on any of the graphs to make out the changes a bit more.
But the last thing that I found interesting was the mapping. I am guessing it takes a gps reading about every 2 seconds. If you zoom in on the first intersection (Kenora and Old Mill), you will see it clips the corner of the road off. I was going fairly quickly through that corner (no cars and there is a good 10 foot shoulder there) so it was interesting that that happened. On the return trip I went through the 7-11 there.
Anyways, I am really liking this device. I have a $35 credit to Hudson Trail Outfitters, so I am going to check to see if they have anything neat to go with it (perhaps the cadence sensor)!